REGISTRATION AND LICENSE PLATE REQUIREMENTS
Motorcycles and scooters/mopeds must be registered with DOTS to be parked on campus. Please visit the DOTS office in Regents Drive Garage to purchase your motorcycle or scooter/moped permit. All motorized cyclists are required to have Personal Injury Protection (PIP) insurance.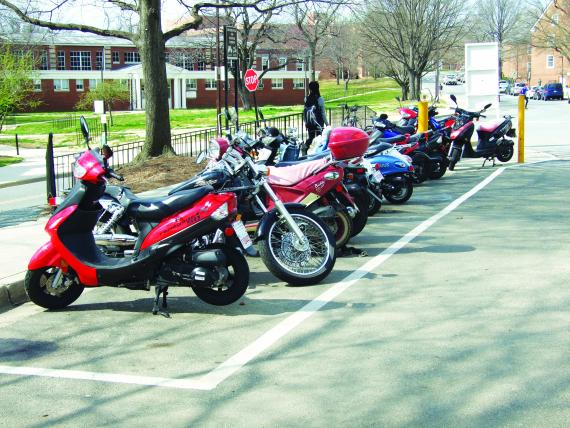 FOR MOTORCYCLES
When parking on campus, motorcycles must display a state-issued license plate and be registered with a DOTS Campus License Plate Recognition (CLPR) permit. You may add your motorcycle to your existing vehicle registration at no extra cost.  You may also register for a permit online if you would like to park in a specific lot in addition to designated motorized cycle parking; however, motorcycle commuter parking fees will apply. 
FOR SCOOTERS AND MOPEDS
Scooters and mopeds must display a DOTS-issued license plate, available for purchase in the DOTS office, to be parked on campus. This must be displayed on the back of your motorized cycle and must be visible at all times. Scooters and mopeds that are parked on campus without a DOTS license plate may be impounded. 
REGISTRATION FEES
2022-2023 FEES
| | | | |
| --- | --- | --- | --- |
| Academic Term | Scooter | Motorcycle (commuter) | Expiration Date |
| Annual | $181 | 8/27/2023 | 8/27/2023 |
| Fall Only | $109 | $109 | 12/21/2022 |
| Spring Only | $91 | $91 | 8/27/2023 |
| Summer Only | $91 | $91 | 8/27/2023 |
If you park additional vehicles, other fees may apply. 
Vehicle(s)
Associated Fees 
Motorcycle Only
Motorcycle Fee
Motorcycle and Car
Car Registration Fee Only
Both vehicles may not be parked on campus at the same time.
Scooter Only
Scooter Fee
Scooter and Car
Scooter Fee + Car Registration Fee
Motorcycle and Scooter
Motorcycle Fee + Scooter Fee
WHERE TO PARK YOUR MOTORIZED SCOOTER
The motorized cycle parking map shows the many motorized cycle parking locations on campus. All of the legal parking areas have a DOTS motorcycle parking sign posted. 
FOR MOTORCYCLES
If you are a motorcycle registrant with a valid vehicle registration, you may park your motorcycle in your assigned parking lot or in a designated motorcycle parking area. However, unless you have two parking assignments (one for a car, one for a motorcycle), you may not park both your motorcycle and personal vehicle (car, truck, SUV, etc.) on campus in your assigned lot or overflow area at the same time.
FOR SCOOTERS AND MOPEDS 
Scooters may park in designated motorcycle, scooter and moped parking areas.
WHERE NOT TO PARK YOUR MOTORIZED SCOOTER
NO MOTORIZED CYCLES SHALL BE PARKED, STORED OR LEFT IN THE FOLLOWING AREAS:
In an area where signs are posted indicating that motorized cycle parking is prohibited.
In such a manner as to block or otherwise impede normal entrance to or exit from any building on the campus.
On any building access or egress.
So as to block or impede the normal flow of traffic on any roadway, street, alley, sidewalk, mall, patio, or parking area or bicycle path on the university.
On any landscaped area.
So as to interfere with or impede the normal movement of disabled persons, pedestrians or bicyclists upon ramps, stairways or curb cuts.
Chained or otherwise locked, or attached to any handrail, tree, bush, door, signpost, lamp, telephone pole, lamppost, fence, bike rack, or other object not maintained or designated for the purpose of securing motorized cycles.
In any lobby, hallway or room of any building.
At any approved motorized cycle parking area between the end of spring semester and the beginning of fall semester, unless the owner is on campus and still riding the vehicle.
MOTORIZED SCOOTER IMPOUNDING AND RELOCATION

---

The UMD Department of Public Safety and DOTS are authorized to move, relocate or impound any motorized cycle that:
 

Does not display a valid UMD DOTS Scooter License Plate.
Is parked illegally (see Where Not to Park in above section). 
Appears to be abandoned as evidenced by signs of disuse or neglect.
Has been reported as stolen to any law enforcement agency.
 

MOTORIZED CYCLE IMPOUND FEES

 

DOTS Impound Fee for Motorized Cycles: $75
Tow Release Administrative Fee: $30
Police Impound Fee: $30
Daily Storage Fee (incurred each day after second day of storage): $10
 
RELEASING AN IMPOUNDED SCOOTER
To release an impounded scooter, you need to:
Show your State Issued ID or Student ID.
Pay the boot or impound fee plus any storage fees.
Register your scooter, if applicable.
Abandoned motorized cycles that remain unclaimed for one year and one day after the original date of impoundment will be disposed of or sold by the university.
DRIVING SAFELY
Maryland State Law classifies motorcycles, motor scooters, and mopeds as vehicles. This means that traffic laws apply. These include, but not are not limited to:
Obeying speed limits and traffic signals
Lane use
Turn signal use
Yielding to pedestrians in crosswalks 
It is important that you make your intentions clear to everyone on the road—please signal at all turns, stop at all stop signs and traffic signals and don't swerve between cars.
Please wear eye protection and a helmet when operating your vehicle: this is required by Maryland State Law. All persons on the vehicle, including riders and drivers, must wear a helmet.