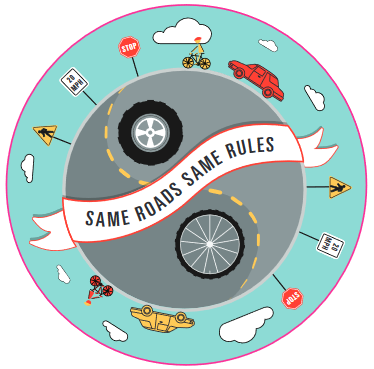 SAFE CYCLING STARTS WITH YOU
SAME ROADS, SAME RULES, SAME RIGHTS
Same Roads, Same Rules, Same Rights is a coordinated
outreach effort that promotes the shared use of roadways
on campus. Whether you bike, scoot or drive, it's important
to know how to safely interact with others in traffic.
Adhere to the bike operation and parking regulations and follow these tips to protect yourself and others. 
SAME ROADS, SAME RULES, SAME RIGHTS PRINCIPLES:
Make Space for Each Other: Leave 3 feet between yourself and another vehicle when passing—don't try to squeeze by.
Be Predictable: Make your intentions clear to everyone. Don't make abrupt turns or swerve around other vehicles.
Ride on the Road: Bikes and e-scooters should generally be used on roads. If you must use a sidewalk to access your destination, dismount your bike and walk. Remember to always yield to pedestrians.
Follow the Law: Obey traffic signals, stop at stop signs, stay in your lane and always yield to pedestrians in crosswalks.
Take the pledge to demonstrate your commitment to share the road and help keep our campus streets safe!
USE LIGHTS WHEN RIDING AT NIGHT
See and be seen when riding at night!
If you are cycling after dark, your safety depends on other motorists' ability to see you. Maryland state law requires your bike to have, at a minimum, a front white light visible from at least 100 feet and a rear red reflector. In addition to this, BikeUMD recommends a rear flashing-red light and, if possible, additional reflective clothing or bike reflectors. Light sets are available for purchase from the DOTS office in Regents Drive Garage and the RecWell Bike Shop.
WEAR A HELMET
In the State of Maryland, helmets are not required for bicycle riders 16 years of age or older. However, BikeUMD recommends that all people, regardless of age, wear a helmet when they bike. Helmets can be purchased from the DOTS office at Regents Drive Garage or from the RecWell Bike Shop for a discounted rate of $20. RecWell Bike Shop mechanics can help you fit and adjust your helmet. We recommend that you replace your helmet every five years. Immediately replace your helmet if it has sustained impact in a fall or collision, or if it has visible cracks or major dents.