Parking, Students
Do you need help navigating campus parking? This list of 10 tips will set you up for parking success. 
Purchase a parking permit
If you need to park on campus, we recommend you purchase a parking permit. If you live off campus and need to commute each day, you'll want to purchase a commuter permit. Resident permits are available for students who live on campus. Overnight storage permits are available for students who live off-campus but need to store their vehicle on campus 24/7.
Park in your assigned lot 
This advice may seem simple (and it is), but if you park in your assigned lot, it takes away the guessing about where you can and can't park. Don't forget that your permit is valid for any section of your lot. For example, a Lot 1 permit is valid in Lot 1b, Lot 1c, Lot 1d and Lot 1f. Our campus map page is an excellent resource if you need to locate your lot. 
Know your overflow 
Did you know that your permit is valid in two lots? In addition to your assigned lot, your permit is valid in an overflow lot. For students, this is Lot 4. You may be directed to park in overflow if a special event or construction impacts your assigned lot. Pro tip: take the Shuttle-UM 105 Campus Parking Connector from Lot 4 to the center of campus.
Give yourself time to find a parking spot and get to class 
Parking on campus gets easier as everyone settles into their routine during the first month of classes. While you're getting acclimated to your schedule, we recommend you factor time into your commute for parking and walking to your destination. Traffic on campus picks up during class changes, so try to arrive before or after this time if you can.
Don't leave your car with the flashers on
This is always tempting, especially if you are only going to be gone for a minute as you run into a building on campus. Instead, use the 15 minutes of free parking offered at any pay station area (you still have to enter your space at the pay station, it just won't ask you to pay).
Observe overnight parking restrictions
Commuter students, this is especially important for you! Students with a commuter permit may not park in commuter lots from 3 a.m. to 5 a.m. on weekdays. But don't worry—there are options for those late weeknight study sessions. This overnight parking map highlights our overnight parking areas. Just make sure to move your vehicle back to your assigned lot by 7 a.m. the next morning when regular restrictions go into effect. Side note: overnight commuter parking restrictions are not enforced during finals week!
Commuter students who live off campus and require regular overnight parking should purchase an overnight storage parking permit. These are available on a first-come, first-served basis.
Read the parking lot signs
Since some of our lots are free and unrestricted on evenings and weekends, we know that you'll likely venture outside of your assigned lot during these times. Always read the lot sign before you park to make sure the lot is unrestricted for you. The following characteristics can help you identify lot type and characteristics: 
Black vs. Red. Lots with black signs are free between 4 p.m. and 7 a.m.. Red means restrictions: read these signs fully, as the restrictions will vary between lots. 
Letter or Number. Signs that begin with a letter are considered faculty/staff, regardless of the sub-number that follows. Signs that begin with numbers are considered student lots.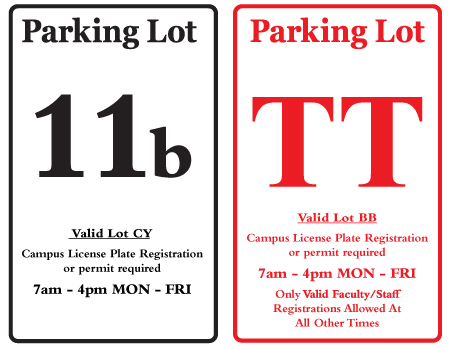 The text below the lot assignment number/letter indicates any special lot restrictions. During the times when a lot is restricted, it is only open to vehicles with permits for that lot.
You'll also want to be mindful of special events or construction that might impact campus lots...more on this in the next two tips!
Pay attention to additional posted signage
You're an expert in reading lot signs and you know your overnight parking options! Equipped with this new knowledge, you find the perfect parking space in a lot that's unrestricted after 4 p.m. (black sign) and close to your evening campus destination. Then you notice additional, temporary posted signage. When lots are going to close for events or construction, these temporary signs are posted in the affected lot in advance to make everyone aware of the closure dates. Read these signs to ensure that you're not parking in a lot that's about to close.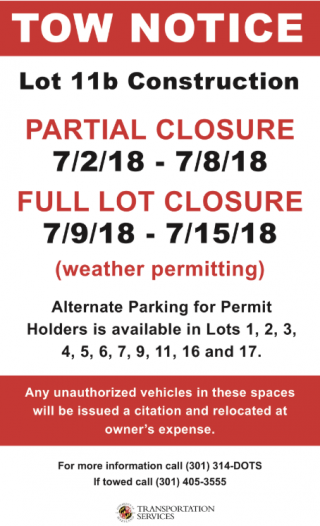 Always read emails from DOTS
Temporary posted signage is one way we inform registrants about impending lot closures. We also email all permit holders with critical parking update information—so please don't put us in your spam folder! We send emails to all our registrants when events, construction, etc. may affect their parking. Make sure the email associated with your parking registration is one you read regularly, and double check that the emails aren't going to spam or any other folders automatically.
Set a reminder on your phone when you  need to move your vehicle
We're so glad you're reading our parking emails! We also bet that moving your vehicle is one of several things you've been asked to remember this week. If you have trouble recalling when you might need to move your vehicle for an event or construction, set a reminder on your phone. It's quick, easy and will help you avoid running to move your car at the last minute.
More questions? You can email transportation@umd.edu, call our office at 301-314-DOTS (3687) or reach out over our social media on Twitter, Instagram or Facebook.